MARATHON MAN
(1976)
Very Rare New York World premier Poster 29.5 x 45" Single sided

Condition: C7 Very Good To Excellent Condition - Note: 4" tear on fold line bottom center

---
Type Feature
Approx. Running minutes 122
Release dates 04/03/2002
BBFCInsight Contains strong language, violence, nudity and scenes of torture
Genre(s) Thriller, Drama
Director(s) John Schlesinger
Cast includes Dustin Hoffman, Laurence Olivier, Roy Scheider, William Devane, Marthe Keller, Fritz Weaver, Richard Bright, Marc Lawrence, Allen Joseph, Tito Goya, Ben Dova, Lou Gilbert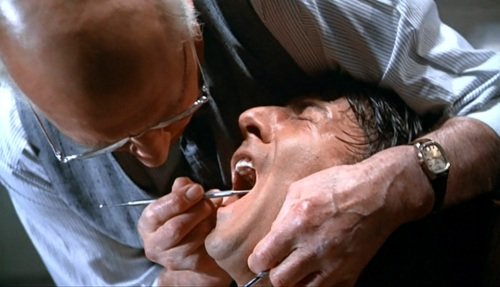 Reception and cultural impact

The film was a financial and critical success. Olivier's performance was particularly praised: he was nominated for an Oscar for Best Actor in a Supporting Role and he won a Golden Globe in the same category.
Roger Ebert gave Marathon Man 3 out of a possible 4 stars. He wrote: "If holes in plots bother you, "Marathon Man" will be maddening. But as well-crafted escapist entertainment, as a diabolical thriller, the movie works with relentless skill."[14] Rotten Tomatoes ranks the film at 80%, with 35 reviews.[15]
Dr. Szell was ranked as villain #34 on the American Film Institute's "100 Years... 100 Heroes and Villains" list. The film itself was ranked #50 on the "100 Years...100 Thrills" list. He was also considered by Time Magazine as one of the 25 greatest movie villains to ever grace the screen. Both the novel and film contain a graphic depiction in which Szell tortures Babe by first probing a cavity in one of Babe's teeth with a curette, and later drilling into another tooth, without anesthetic, while repeatedly asking the question "Is it safe?" The quote "Is it safe?" was ranked #70 on the "100 Years...100 Movie Quotes" list. The dental torture scene was named #66 on Bravo's 100 Scariest Movie Moments. The torture scene has been described as one of the most frightening sequences in film.[10] Critics have remarked on the high level of talent and classiness.[16]
Director Schlesinger said that
Marathon Man
was successful not only because it had elements of escapism, but also because the audience easily identified with Babe Levy. Schlesinger said that he "is definitely someone that you can root for. The film is about his survival in a grim and hostile world. In our present age of anxiety we can all identify with characters who are not trying to get ahead but simply to survive."