45 YEARS
(2015)
UK Quad 30x40 Double Sided
Condition: C6 Very good condition - Some minor edge wrinkling - some small edge tears - see images

---
Type Feature
Approx. Running minutes 93
Release dates 28/08/2015
BBFCInsight strong language, sex
Genre(s) Drama
Director(s) Andrew Haigh
Cast includes Charlotte Rampling, Tom Courtenay, Geraldine James, Dolly Wells, David Sibley, Sam Alexander, Richard Cunningham, Hannah Chalmers
Summary 45 YEARS is a British relationship drama about a secret which is uncovered the week leading up to a couple's 45th wedding anniversary.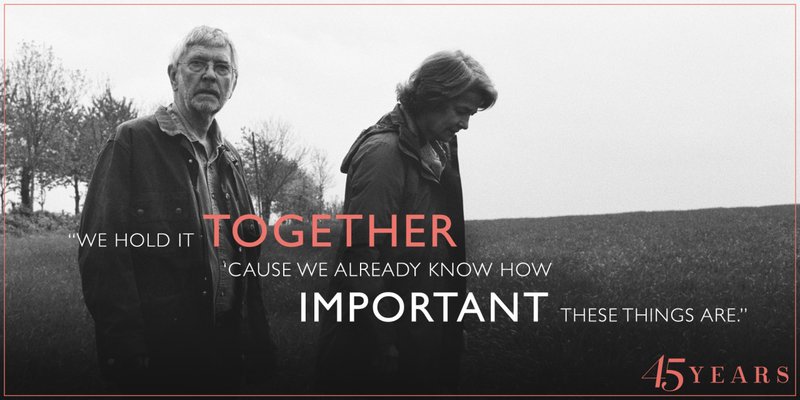 uperbly nuanced performances from Charlotte Rampling and Tom Courtenay and exquisite direction by Andrew Haigh, who also co-wrote the film, turn an apparently everyday story of a marriage in quiet crisis into something rather extraordinary. A subtle examination of the persistence of the past and the fragile (in)stability of the present, this is a portrait of a rock-solid relationship facing a fissure that cuts to its very core in the runup to the titular wedding anniversary.
The source material is David Constantine's enigmatic short story In Another Country, in which an ageing married man receives a letter telling him that the body of his previous girlfriend has been found, perfectly preserved in the ice of the Alps where she fell 50 years ago. This news gets a chilly reception from his wife, who is alarmed by the frozen spectre of a former love. "Into the little room came a rush of ghosts," writes Constantine, the vision of "my Katya", who has aged not a day since her death, creating an icy fracture as tangible as that into which the poor soul tripped and fell all those years ago.